On behalf of the Alisal PTA, we want to thank you for participating in the 2013 Alisal Elementary Crab Feed and Auction this Saturday. Hopefully you have heard of some of the sensational additions we have made to the event this year such as our Live Auction hosted by the famous auctioneer "Big Frank" and our Heads and Tails game where you can win one of two brand new iPad2's!
Our online auction closes at 8pm on Friday, March 1st.  Lots of great items are still available at affordable prices, including a parent's night out with childcare provided by the Alisal faculty!
Of course, after the online auction closes, the excitement moves on to the Crab Feed and Auction on Saturday, March 2nd.  Here are a few reminders about the event!
Where? California Center, 4400 Rosewood Drive, Pleasanton. There are multiple entrances, so follow the signs and balloons.
When? Registration opens at 5:30 PM, event ends at 10:00 PM
Silent Auction – The silent auction is ending before dinner at 7:00 (silver section) and 7:15 (gold section). This is different than previous years so be ready to get final bids in before dinner!
Visa or Mastercard will be accepted when paying for auction items, you can add a card during registration to make check out a snap.
No Host Bar accepts cash only, local Livermore Valley and Napa Valley bottled wine will be for sale, chilled and ready to enjoy!
If you have any questions, please contact auction@alisalpta.org.
Thank you and see you Saturday night!
2013 Alisal Auction Committee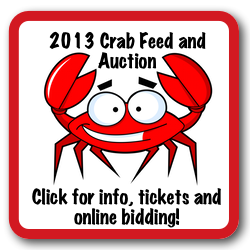 Attached files
alisal_auction_catalog_2013